Latest Information
Dear visitors,
we are pleased about your interest in Frankl's apprenticeship and invite you to visit our varied programme online due to the current situation: to the virtual museum tour
At the same time, we regret to inform you that, according to the COVID-19-measures the Viktor Frankl Museum Vienna is closed until further notice! We will keep you informed here about further developments on a timely and ongoing basis.
Please continue to take good care of yourself! We look forward to welcoming you to our (online) events, your VIKTOR FRANKL ZENTRUM WIEN team

Lectures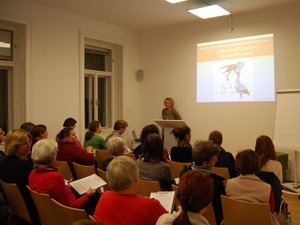 VIKTOR E. FRANKL'S LOGOTHERAPY
Lecture for Students
(in English language)

A lecture for students or trainees which will discuss questions concerning meaning and existence against the background of Viktor E. Frankl's life and work. It is meant to give new impulses to strategies in coping with life.


Contents: biography of Viktor E. Frankl & anthropology of the logotherapy: basic assumptions and tenets underlying logotherapy
(with original videos and audios of Viktor E. Frankl)
Dates: mondays to fridays; time by appointment
Duration: 60 or 120 minutes (incl. discussion)
from 10 to max. 40 people
(the lectures are not public, but only for complete groups that book in advance)

Venue: VIKTOR FRANKL SeminarCENTRE VIENNA
Mariannengasse 1/13
1090 Vienna, Austria

Costs:
Lecture (60 minutes): 15,00 Euro per person
Lecture (120 minutes): 25,00 Euro per person

It´s also possible to book a lecture & a visit of the world´s 1. VIKTOR FRANKL MUSEUM in Wien (max. 20 people):
Lecture (60 minutes) & Museum visit (60 minutes): 25,00 Euro per person
Lecture (120 minutes) & Museum visit (60 minutes): 35,00 Euro per person


Contact
Mrs. Susanne Martin
E-Mail: s.martin(at)franklzentrum.org
Fon: 0043 1 997 166110