Healing thoughts from the teachings of Viktor Frankl
At this point we would like to pass on to you regularly, in the sense of psycho-hygiene, healing thoughts from Frankl's doctrine of meaning, the logotherapy.
Healing thoughts from the teachings of Viktor Frankl (No. 2):
What thoughts would Viktor Frankl, the world-famous psychiatrist, give us in today's situation?
Do not look rigidly and fearfully at the situation as it is, but try to make the best possible use of it for yourself and your fellow human beings according to your possibilities. The following questions could be helpful for you:
Which woman, which man do I want to have been in this situation?
Which mother, which father for my children?
Which grandmother, which grandfather for my grandchildren?
Which co-worker(s) do I want to be?
What exactly is supposed to come from me now? What attitude, what action?
What would I be sorry for not having lived, loved, decided, formed now?

Each one of us has the ability to decide whether he/she wants to live in a hope-increasing or sorrow-increasing way! Fortunately it is always in our hands!
Whether what we have in our hands is realized or not is entirely in my hands!
Against this background the hopeful quote of Frankls:
"The world is not healed, but it can be healed."
"Life has meaning in all circumstances", even if the world is upside down!
How good that we can face this challenge together!
Johanna Schechner and the VIKTOR FRANKL ZENTRUM WIEN Team
---
Healing thoughts from the teachings of Viktor Frankl (Nr. 1):

The coronavirus paralyses the world - it is fatefully imposed on us: undeservedly, violently and at the wrong time. How good it is to know that we humans are free to decide how to deal with it.
Each and every one of us can help to counteract this serious crisis per life. Through a confident attitude, which is reflected in a meaningful action, the human being becomes visible in the full picture. Words such as solidarity, renunciation, consideration and mindfulness mingle with otherwise rather rigid messages. Inter-generational support encourages people to succeed in proving their ability to be human despite the crisis. We can trust in this and in this sense we will continue to work together!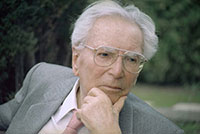 An impulse from Viktor Frankl's theory of meaning for the current world situation:
"...but where is the knowledge of the one humanity, a knowledge that I would like to call monanthropism? The knowledge of the unity of mankind, a unity that transcends all manifestations, be they of skin colour or party colour." (Viktor E. Frankl)