Viktor Frankl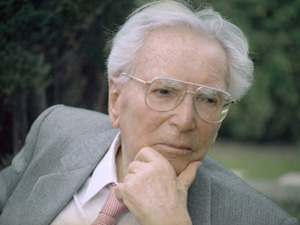 Univ-Prof. DDr. Viktor Emil Frankl
Neurologist and Psychiatrist

Born: March 26, 1905, Vienna
Died: September 2, 1997, Vienna
Academic titles and degrees: Univ. Prof. Dr.med. (Full Professor, MD, 1930); Dr.phil. (PhD, 1949)
Family: Widower, second marriage (1947) to Eleonore, b. Schwindt; one daughter, two grandchildren, 3 great-grandchildren

Viktor E. Frankl was professor of neurology and psychiatry at the University of Vienna and was lecturer in the United States (Harvard University as well as at universities in Dallas and Pittsburgh). For him, the U. S. International University in California created a chair of logotherapy—the school of psychotherapy founded by Frankl, also referred to as the "Third Vienna School" (following Sigmund Freud's psychoanalysis and Alfred Adler's individual psychology). He held 29 honorary doctorates from universities around the world.
Frankl was the first non-American psychiatrist to be awarded the Oskar Pfister Prize, named after a disciple of Sigmund Freud, by the American Pyschiatric Association; the Austrian Academy of Sciences elected him honorary member.
H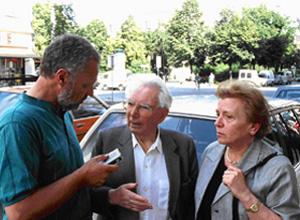 is 32 books have been published in 32 languages. More than nine million copies of one single book were sold ("Man's Search for Meaning"). The United States Library of Congress dubbed it "one of the ten most influential books in America". (Its German title is "... trotzdem Ja zum Leben sagen: Ein Psychologe erlebt das Konzentrationslager"). Other books published in German include: "Der Mensch vor der Frage nach dem Sinn" (Eine Auswahl aus dem Gesamtwerk), which contains selected extracts from his works. "Was nicht in meinen Büchern steht" (English title: "Viktor Frankl: Recollections") and "Man's Search for Ultimate Meaning" were the last two books published during his lifetime.
Frankl presented papers and lectures at 209 universities on all five continents.
From 1940 to 1942 Frankl was head of the Neurological Department of Rothschild Hospital; from 1946 to 1970 he was director of the Vienna Neurological Policlinic.
Frankl held the pilots' Solo Flight Certificate (USA). He achieved The Mountain Guide Badge of the mountaineers club "Alpenverein Donauland" (Austria); three difficult climbing routes (on the Rax and Peilstein mountains) were named after him.
In 1995 Viktor Frankl became an Honored Citizen of the City of Vienna.